MATERIALS & INSTALLATION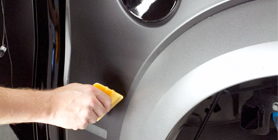 The products we put on the vehicles we wrap are premium, top of the line, automotive grade vinyl films. This vinyl is specially designed for use on vehicles using paint-safe adhesive, malleability, and air-release features that make installation on your car as safe as possible. Unlike a repaint which will ruin the original value of your vehicle, a vinyl wrap will actually protect it! Because the entire vehicle is covered with 3-4 mils thick vinyl, the paint surface is protected from most regular road debris. Another reason wrapping a vehicle is a far better idea then repainting it is that the wrap is not permanent. If, after a while, you want to change the color or go back to the stock look, the wrap can easily be removed by one of our skilled technicians. By using us for the uninstall, we can assure you that your vehicle will be returned to the same condition as before it was wrapped.
Our wrap installers have years of experience applying vinyl wraps to commercial vehicles and it shows in the quality of our installs. Since we let our work speak for itself, we pride ourselves in achieving excellence on every wrap. We challenge ourselves to a higher standard than the rest of the industry by regularly attending wrap competitions to keep our skills ahead of the curve, while integrating new materials, developing techniques, and adding design elements to bring new aesthetics to the vehicle wrap scene. It is very important to have an experienced installer as one of the dangers of this process is the proximity of a sharp blade to the paint. Often times, places who offer wraps will leave razor marks on the painted surface from the custom installation processes required; our procedures ensure that there will be no cuts directly onto the vehicle!
We utilize films from a wide array of suppliers and manufactures, so if you're looking for something specific for your vehicle wrap contact us with more information or check out our wrap gallery for some examples!